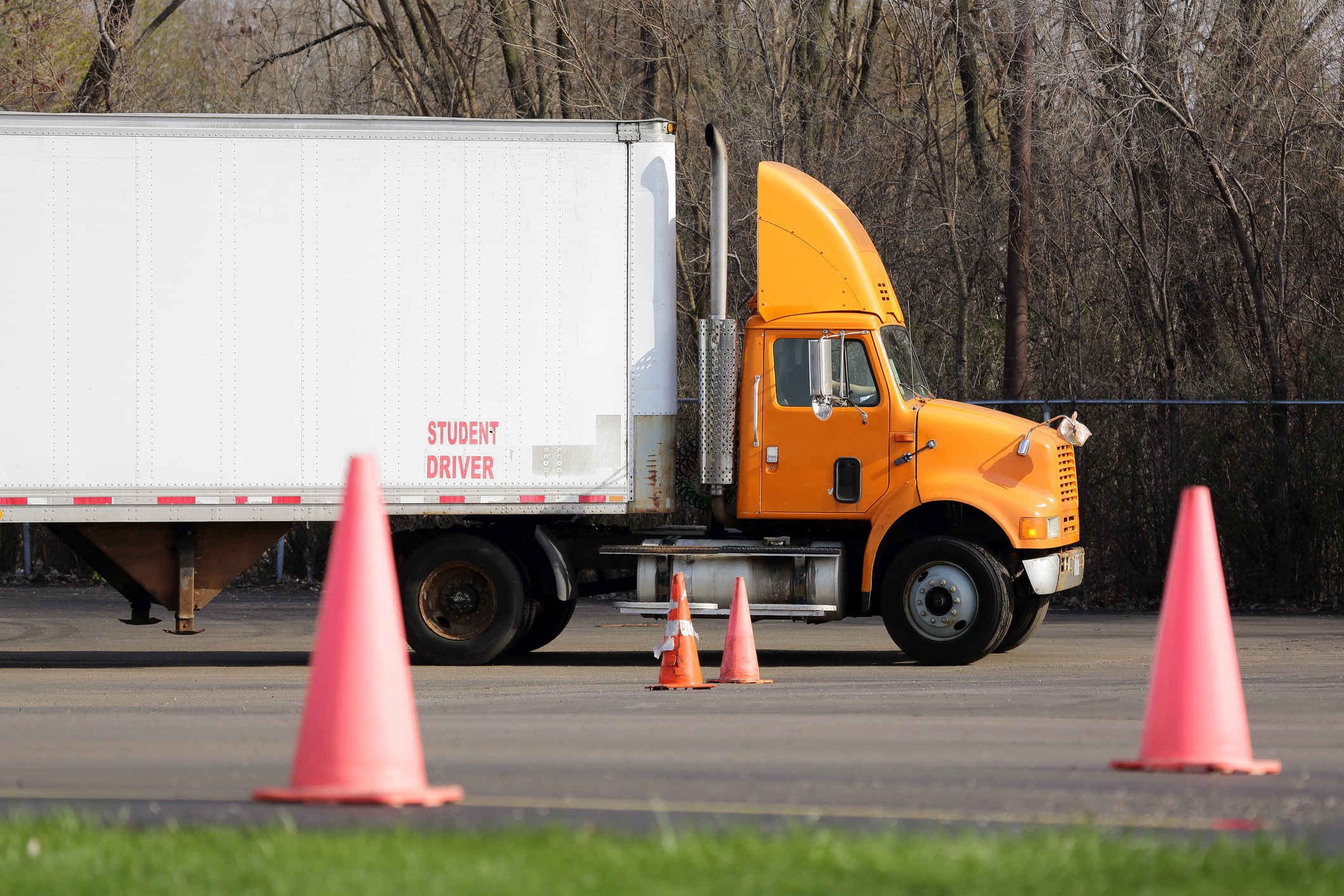 What units do I have to complete to become a heavy vehicle instructor?
A TLI41321 – Certificate IV in Transport and Logistics (Road Transport – Heavy Vehicle Driving Instruction) comprises of 14 units of competency:
13 core units listed below, plus
1 industry elective unit from the industry elective units listed below, relevant to the vehicle type applicable to the job role.
Core units:
BSBRKG304: Maintain business records
TAEDEL301: Provide work skill instruction
TAEDES401: Design and develop learning programs
TLIC3037: Apply safe heavy vehicle driving behaviours
TLIF1001: Follow work health and safety procedures
TLIF2010: Apply fatigue management strategies
TLIF4066: Implement and supervise transport regulations compliance systems
TLIG2007: Work in a socially diverse environment
TLII1002: Apply customer service skills
TLIL2060: Complete induction to the transport industry
TLIL4009: Manage personal work priorities and professional development
TLIM0002: Conduct heavy vehicle learner driver training
TLIM4002: Develop safe heavy vehicle driving behaviours in others
Industry elective units (plus one of the following…):
TLIC2002: Drive light rigid vehicle
TLIC3003: Drive medium rigid vehicle
TLIC3004: Drive heavy rigid vehicle
TLIC3005: Drive heavy combination vehicle
TLIC4006: Drive multi-combination vehicle
What are the eligibility requirements?
Applicants must produce photo identification.
Applicants must undergo a Police history check, a driving history check & a medical check (if required). These checks are completed by the Queensland Transport and Main Roads Department. Queensland Transport and Main Roads may refuse to grant accreditation to a person who has been convicted of an offence under the Criminal Code or is currently charged with an offence under the Criminal Code and the charge has not been fully disposed of.
The requirements for driver trainer accreditation fall within the Transport Operations (Road Use Management – Accreditation and Other Provisions) Regulation 2015 (2015 Regulation). The changes incorporated in the 2015 Regulation are detailed below:
Driver licence requirements:
Currently to apply to become an accredited driver trainer an applicant must hold or have held for at least 1 year an 'O' type licence (open driver licence) authorising the applicant to drive the class of motor vehicle stated in the application as the class of motor vehicle for which the applicant proposes to give training.
An 'O' type licence means an open driver licence granted outside Queensland.
This requirement has been changed to a person has the necessary expertise to be accredited to perform the function of a driver trainer, for a class of motor vehicle, if the person holds and has held, on the day the application is made for a continuous period of at least 1 year, a valid open licence authorising the person to drive the class of motor vehicle. This includes a valid interstate driver licence or a valid driver licence granted in New Zealand.
A valid licence means a licence that is not expired, suspended or cancelled and the licensee is not disqualified by an Australian court from holding or obtaining a driver licence.
Can I become a driving instructor if I have had a traffic fine/s?
Yes. You can submit a traffic history check with TMR to see if your history will be an issue. In my time of doing this job, it's normally issues within the last 5 years that seem to have an impact on eligibility. However, the best way to be sure is to check with TMR as they require a criminal history check off every trainer coming into the industry.
Where does practical training take place?
Practical training is conducted on the north side of Brisbane at 624 Gympie Road, Lawnton. Alternatively, practical training can be delivered onsite at your workplace.
I have prior experience/qualifications. Is this taken into account?
It can be taken into account but it depends on a number of factors such as type and length of experience, qualifications – when completed and relevance to this course, and so on. Watto Training is happy to discuss pathway options for applicants who may already hold knowledge, skills and qualifications from previous/current fields of work. In such cases the applicant may be eligible for Recognition of Prior Learning (RPL).
I haven't studied for a while. Will I be able to succeed?
Yes, as an adult learner you:
tend to be self-directed
have a rich reservoir of experience that can serve as a resource for learning
are frequently affected by your need to know or do something
tend to have a life-, task-, or problem-centred orientation to learning
as opposed to a subject-matter orientation
are generally motivated to learn from within (internally/intrinsically)
as opposed to being obligated, or subject to, external or extrinsic forces.
Government Funding
Higher Level Skills program – funded by the Queensland Government
If you are in Queensland and looking for a career in the Transport Industry or interested in becoming a Heavy Vehicle Instructor, Watto Training (RTO #40791) has access to Higher Level Skills program – funded by the Queensland Government for eligible applicants.

(NB: Training providers approved by the department to deliver training and assessment services for the Higher Level Skills are called Pre-qualified Suppliers – PQS)
Am I eligible for funding?
To be eligible for the High Level Skills program a student must:
not have or be enrolled in a certificate IV or higher level qualification (not including qualifications completed at school and foundational skills training)
be 15 years of age or older
have finished secondary school or left school
be a Queensland resident – an Australian Citizen or permanent resident living in Queensland, or a New Zealand citizen permanently residing in Queensland.
Employment status does not matter, nor is there any minimum education requirement, only the standard entry requirements for the course of study.

Note: For eligible individuals, the entitlement under the Higher Level Skills program is for one Government subsidised training place in a funded Certificate IV qualification. It is very important that you take the time to decide which qualification would provide you with the best career pathway and compare your training options, providers and costs, before signing an enrolment form or committing to a course of study which will use up your entitlement.
Am I still eligible for the Higher Level Skills program if I undertake a Certificate IV qualification through recognition of prior learning (RPL)?
Yes – the Higher Level Skills program will apply to Certificate IV qualifications completed through recognition of prior learning (RPL).
When does concessional student status apply?
(a) The student holds a Health Care concession card or Pensioner concession card issued under Commonwealth law, or is the partner or a dependent of a person who holds a health care concession card or pensioner concession card, and is named on the card

(b) The student provides the PQS with an official form under Commonwealth law confirming that the student, his or her partner, or the person of whom the student is a dependant, is entitled to concessions under a health care or pensioner concession card
(c) The student is an Aboriginal or Torres Strait Islander
(d) The student is a school student and is enrolled in a VETiS program (may include youth in detention)
(e) The student has a disability
(f) The student is an adult prisoner.
It is the responsibility of the PQS to verify and hold evidence of a student's eligibility at enrolment for concessional status.
Do holders of a concession card receive the same subsidy under the Higher Level Skills program?
The amount provided by the Higher Level Skills program will vary depending on the course chosen and your needs. If you hold a health care or pensioner concession card you will receive a higher subsidy.
Do I have to pay back any money if I do not finish the course subsidised by the Higher Level Skills program?
Yes. Given the benefits that accrue to individuals from training, students undertaking certificate IV training and non-concessional students undertaking lower level training, will be required to contribute to the costs of their training through a co-contribution fee.
The fee may be paid on behalf of the student by the employer or a third party, but not by their PQS.
The amount of the fee is determined by the PQS.
How can I check my eligibility?
You can complete this online Higher Level Skills program eligibility checklist. We will be touch to discuss your eligibility.
If I continue my qualification with another training provider under the Higher Level Skills program – will I get recognition for the training I have already completed?
Yes – your first training provider must supply you with a Statement of Attainment which will show any units of competency you have completed for the course or qualification. You must present the Statement of Attainment to your new training provider so that your previous completed units of competency can be recognised. A Statement of Attainment is an official record of an individual's successful completion of specific skills and can contribute to a full qualification as more units are completed. A statement of attainment is recognised across all registered training organisations (RTOs).
If I move to another training provider under the Higher Level Skills program, will I continue to pay the same fees for the qualification?
Training providers can charge different amounts for the student contribution fee or no fee. However, all training providers must clearly advertise their fees upfront to enable you to compare fees before choosing to continue your training with another training provider.
Is the Higher Level Skills program for apprenticeship and traineeship training?
No
Where can I find out more about the Higher Level Skills program – funded by the Queensland Government?
I would like to know more about the Higher Level Skills program – funded by the Queensland Government
I would like to read the Student Fact Sheet in relation to the Higher Level Skills program – funded by the Queensland Government.
I want guidance on how to pick the right training provider and course
What happens if I don't finish a Higher Level Skills program?
Under the Higher Level Skills, you are entitled to access government-subsidised training for one completed certificate IV qualification. If you don't complete the qualification, you are still eligible to access funding for another certificate IV qualification. However, you may be limited in how many times you can move from one unfinished qualification to another as government funding is limited. For this reason, it's important that you take the time to consider your training options and all fee costs, before enrolling with a training provider and commencing training.
What happens if my training provider stops offering a Higher Level Skills program I am enrolled in?
If a training provider stops delivering your course, it is obligated to assist you to move to another pre-approved training provider so you can complete your training.
What if I already have a certificate IV or higher level program?
If you already hold a certificate level IV or higher qualification that was gained prior to 1 July 2013, the Higher Level Skills program is not applicable to your training. However, you are still able to enrol in your desired course under a non-subsidised, fee for service charge.
What is the Higher Level Skills program – funded by the Queensland Government?
The Higher Level Skills program aims to assist individuals to gain the higher-level skills required to secure employment or career advancement in a priority industry, or to transition to university to further their studies.
Who can I contact for more information?
For more information on the Higher Level Skills program and other training programs funded by the Government – visit the Department's Training website at www.training.qld.gov.au. Or, you can contact the Training Queensland Customer Centre (TQCC) on telephone 1300 369 935 or email training@dete.qld.gov.au.
Watto Training is available on 0459 840 006 or email info@wattotraining.com.au or find more on our website
Will my training provider help me find a job when I finish my Higher Level Skills program?
The aim of Higher Level Skills is for students to achieve a full qualification that will help them get a job or improve their career. For this reason, the department requires training providers under the Higher Level Skills to work closely with local industry, community and employment agencies to identify the skills and training needed by employers. But it is not a requirement under the program that the training provider assists you to find a job or place you in a job. Therefore, it's important to discuss your employment and career advancement goals with the training provider prior to enrolling to understand what assistance, if any, they may be able to offer you to find employment.